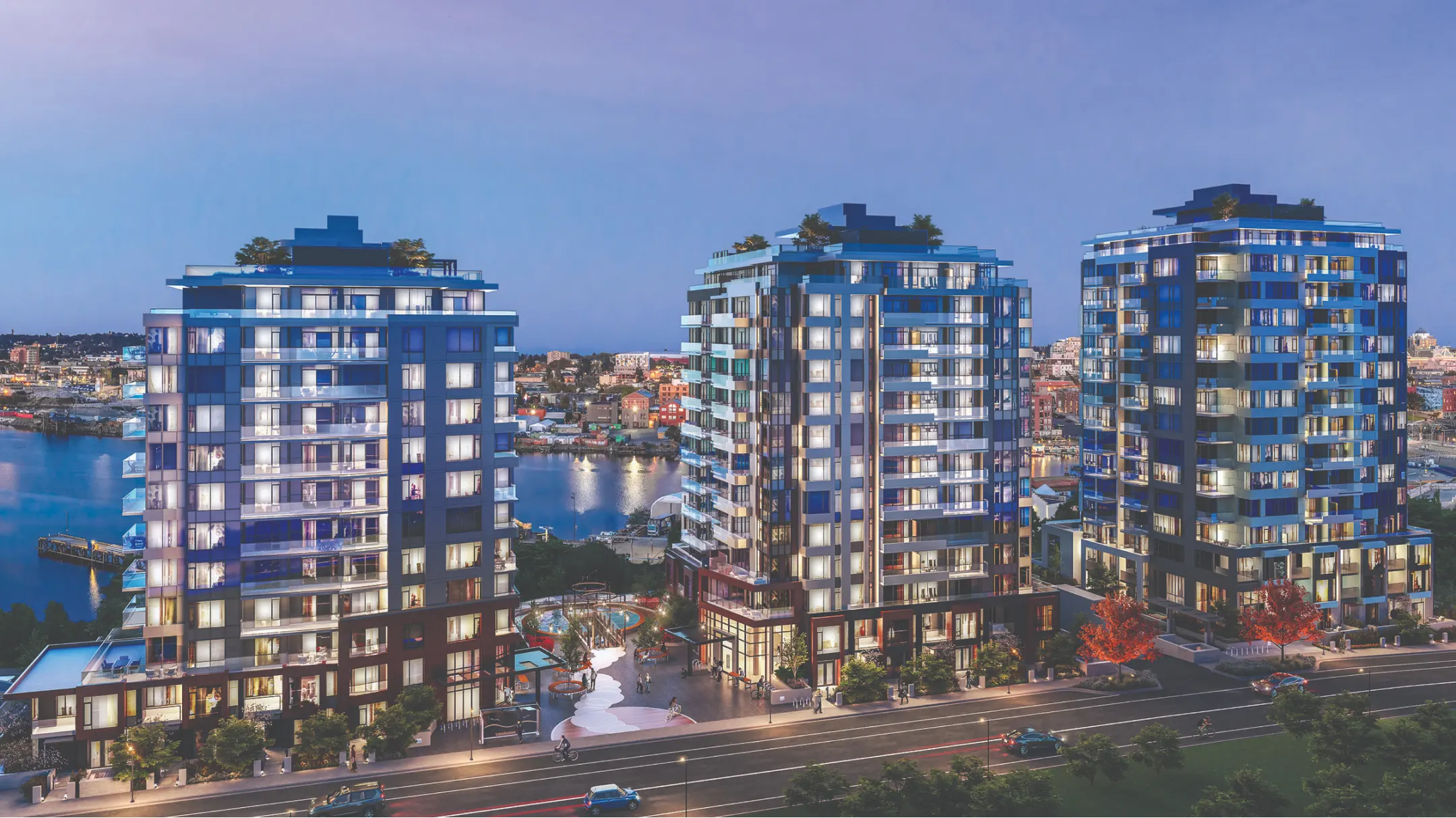 Feel Good About
The Way You Live
Scroll Down
Generous open spaces blur the line between inside and out AND strengthen meaningful connections to nature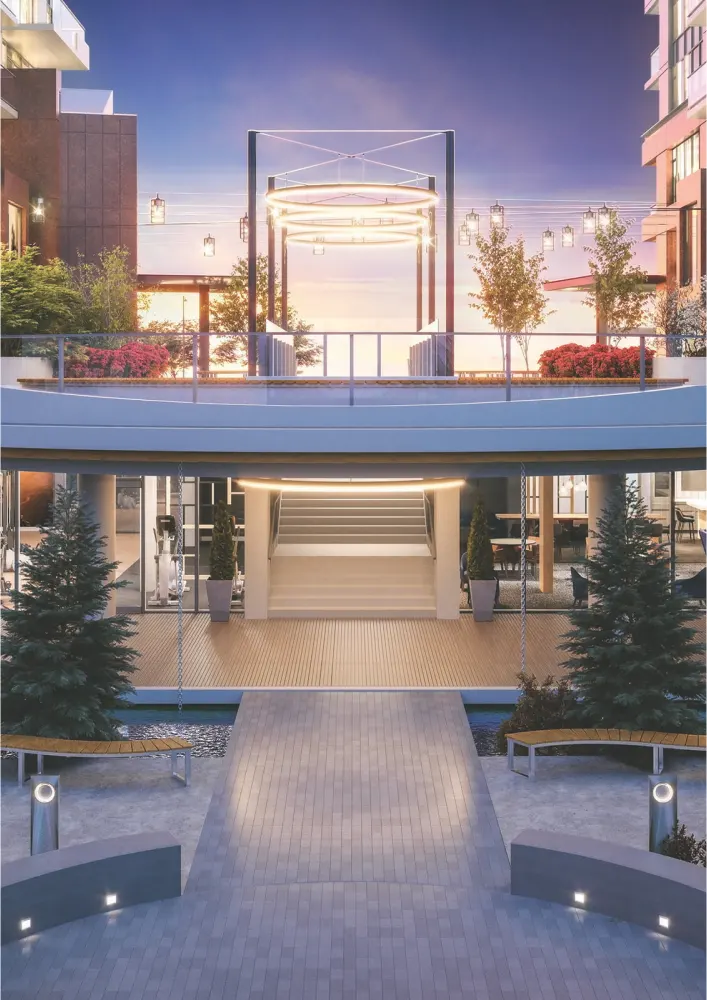 Tyee Plaza
A gateway to home
Community convenes at Tyee Plaza, a vibrant entry point to Dockside Green and home. Urban character meets natural beauty to create a gathering place with an ambiance that compels people to socialize in the open air. The plaza marks the beginning of a gently flowing waterway that separates residential buildings from a lush greenway. Lifestyle is influenced by smart, sustainable design.
Amenities create another space where residents will play, meet, talk and build community
The Dockside community grows tighter bonds in amenity spaces designed to be flexible for a variety of uses. Be together in celebration with friends or enjoy a cozy corner on your own. Smoothly move socializing from indoors to outdoors, with an expansive deck overlooking the peaceful waterway. The modern spaces are comfortable and welcoming to encourage residents to consider them another chapter of home.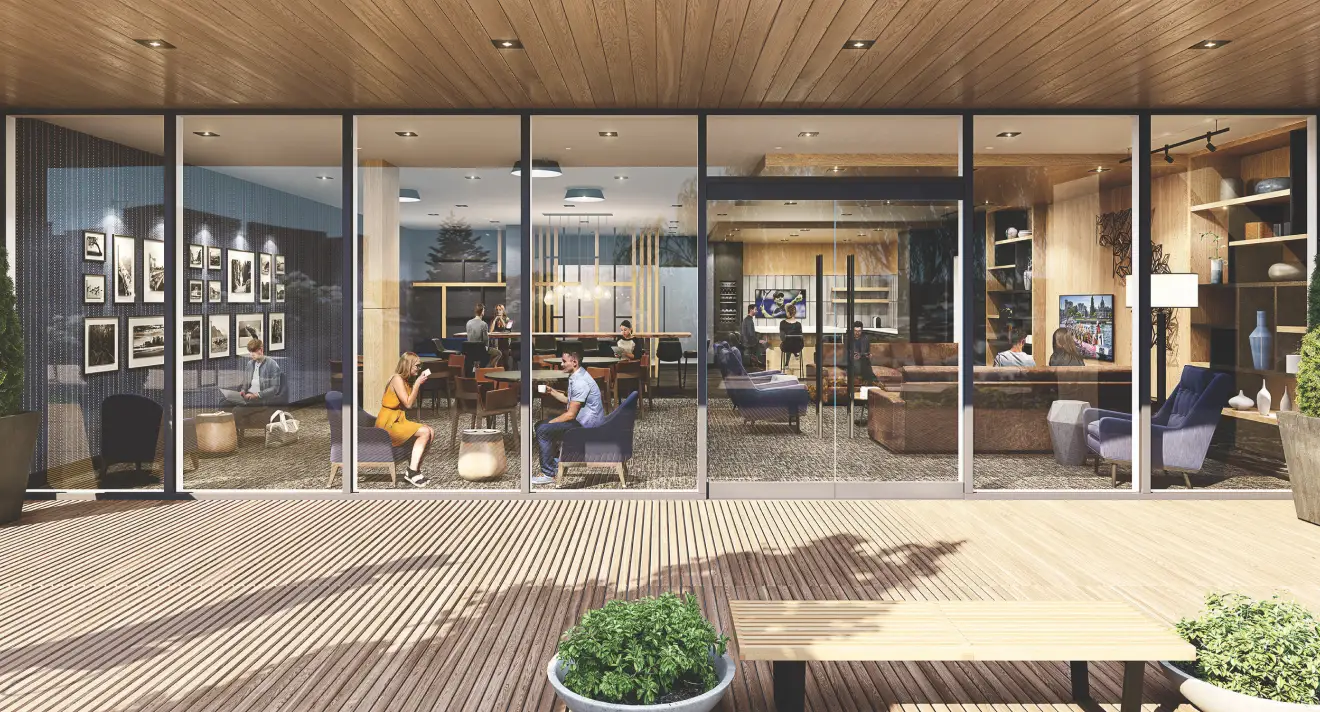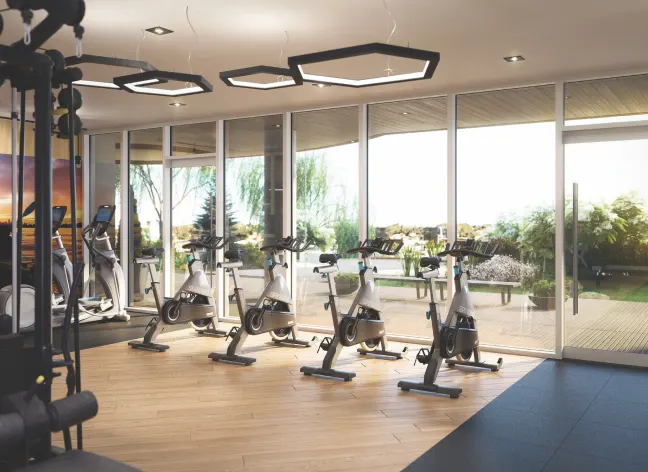 Dockside's state-of-the-art fitness facility allows residents to prioritize healthy living through all four seasons
Opportunities for all aspects of health. Bring your favourite outdoor activities indoors. Whether you like to row, ride or run, your desire for exhilaration will be covered with the latest fitness equipment. If you prefer to build strength or need room to stretch, there are free weights, lifting equipment and a large yoga area to meet all your healthy living goals.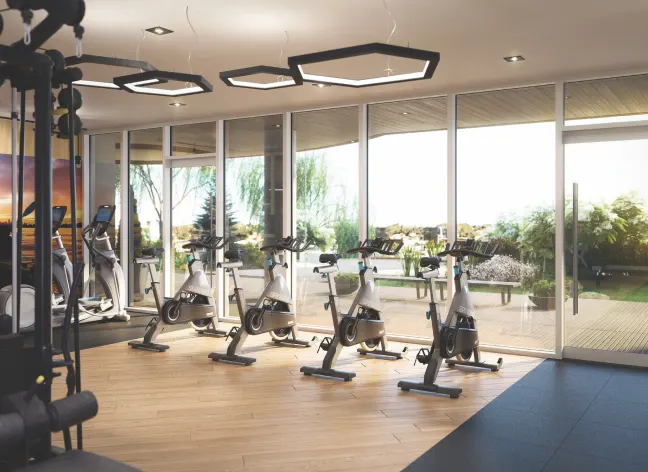 The rooftop lounge gives residents a new view on Victoria and Vic West
Pop up to the rooftop deck for another vantage point in the fresh air. The space is divided into pods, each with its own cooking, dining and lounge area, so multiple groups can enjoy the amenity. At the centre, a glowing fire pit surrounded by seating draws people together.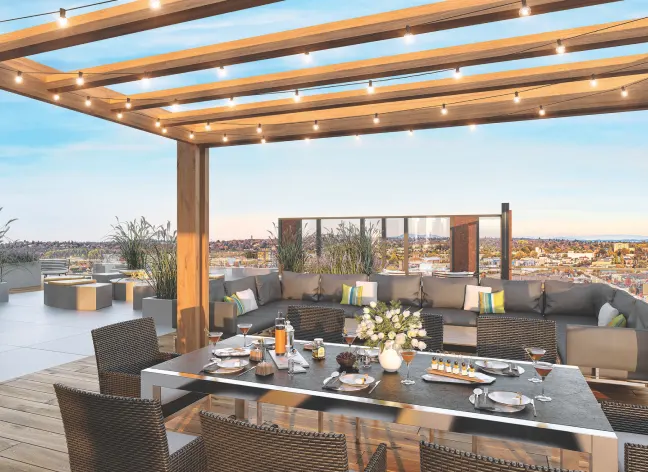 Homes are smart, sustainable, functional and beautiful – and, of course, built to last by Bosa Development
Timeless design forms the framework for each home, featuring West Coast materials and natural palettes – a perfect backdrop for you to stage your individual style. Whatever kind of home you live in, interiors are noticeably spacious with plenty of room to move and arrange furniture. Large windows welcome the light throughout and frame the picturesque harbour views that define Victoria living.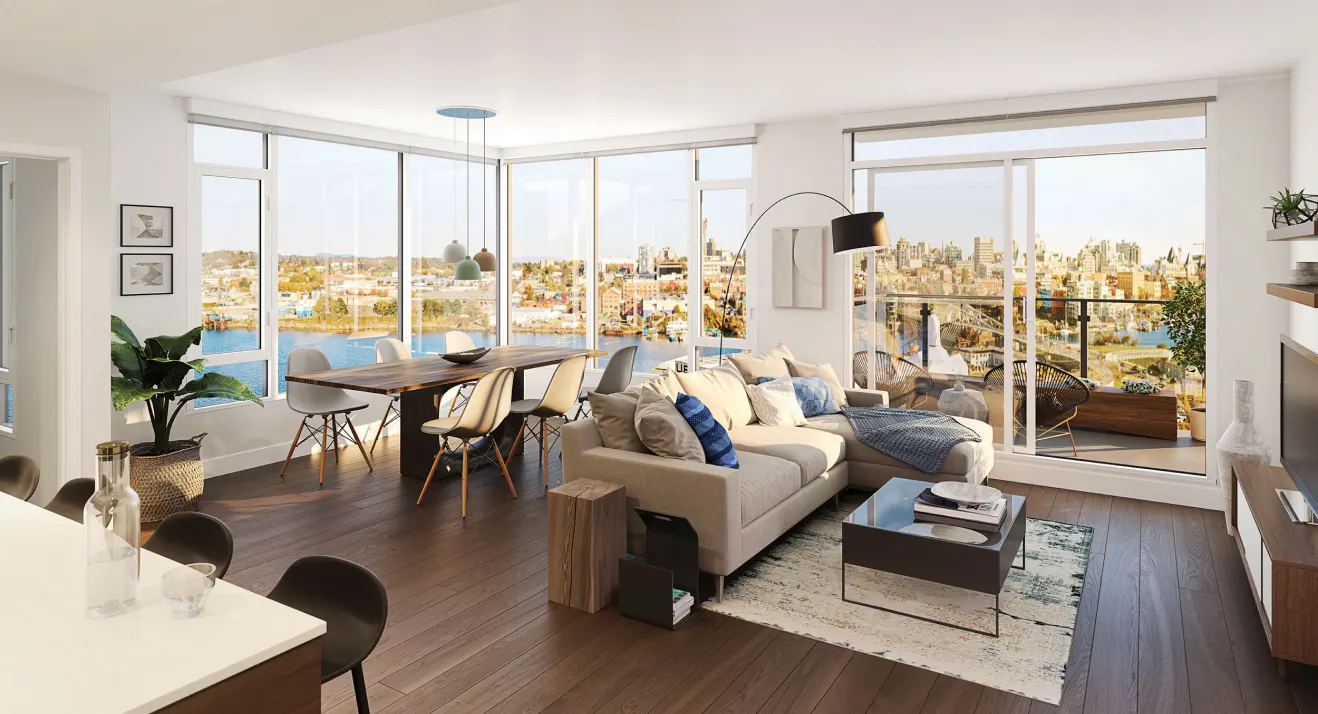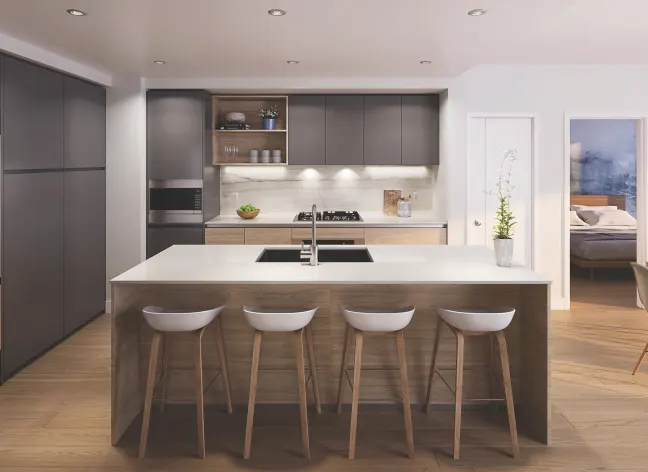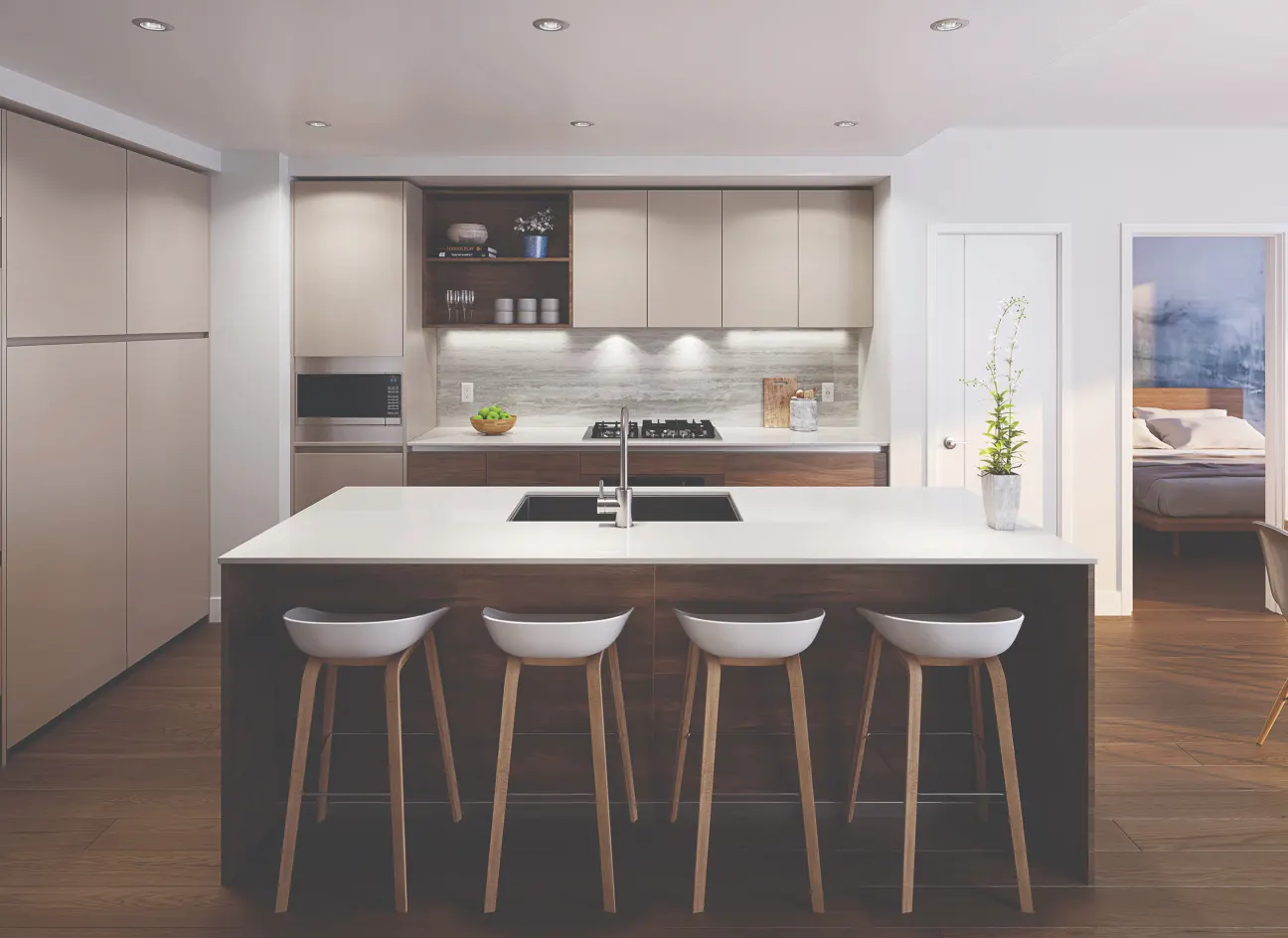 A home you will appreciate for years to come. A haven you can always retreat to. A place to welcome friends and family.
There are no compromises at Dockside – quality is a priority in every detail. Fine Italian cabinetry sets the tone in state-of-the-art kitchens, where appliances blend contemporary European design with cutting-edge performance and energy efficiency.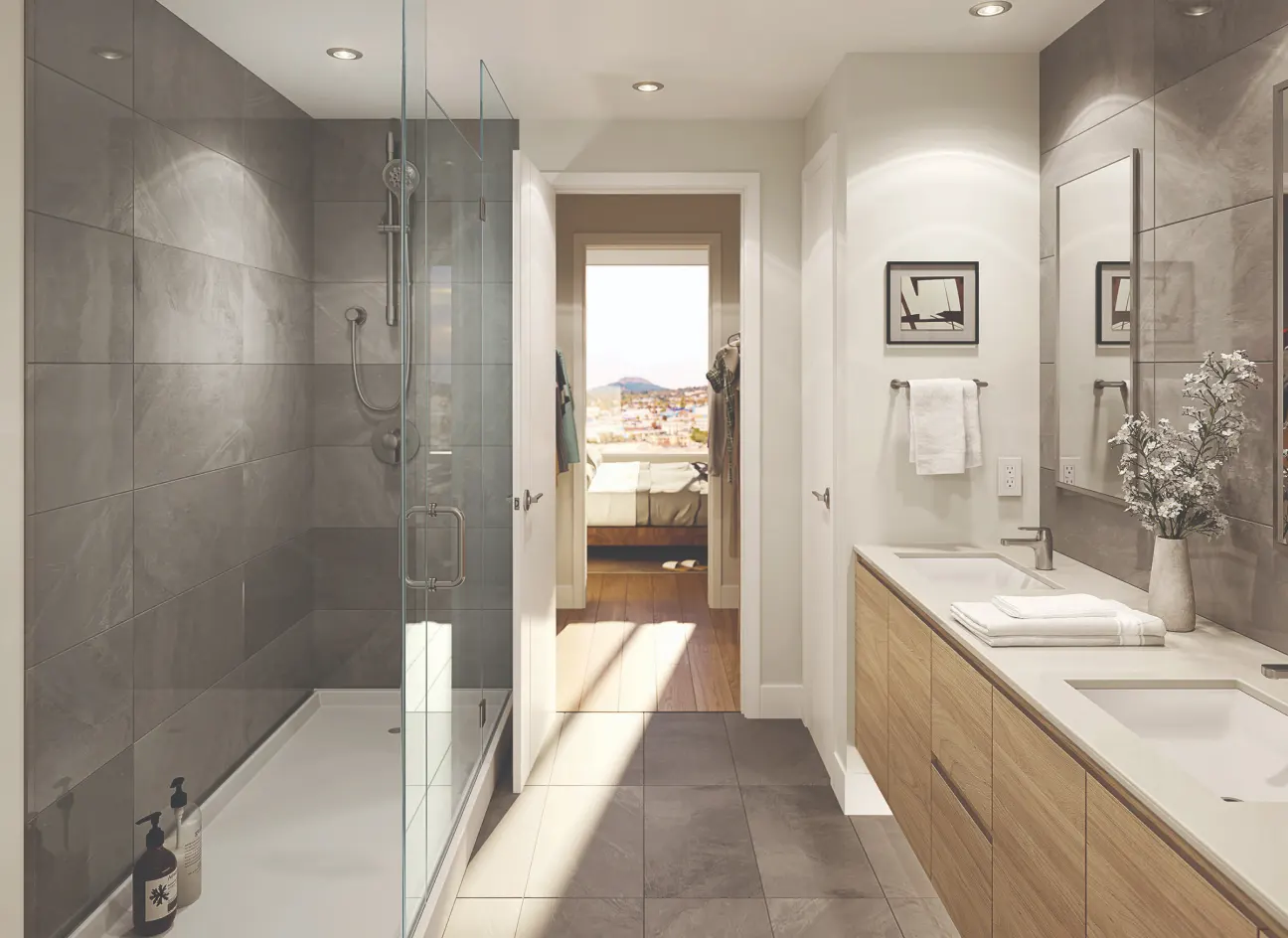 Design enhances living
Bathrooms mirror the same minimal aesthetic as kitchens, with innovative features designed for functionality. Relaxation, entertaining and day-to-day routine come easy in these modern, practical and comfortable homes.